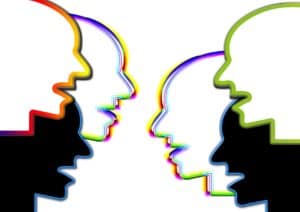 In this article I'm going to introduce a secret technique you can use to improve your spoken fluency, as well as your lexical and grammatical accuracy.
It was developed by language learning expert, Professor Paul Nation of Victoria University of Wellington and I've used it successfully in my classes as well.
Master's Wisdom – 

Student: Why is fluency important, Master Lee?

Master Lee: Fluency is important because it is one of the four main areas that is marked on the speaking exam (click here for the detailed scoring criteria). And of course, everyone likes talking with fluent speakers!

Student: I understand now!
IELTS Master Secret Technique:
4/3/2
The 4/3/2 fluency activity is actually quite simple. You speak about the same topic for four minutes, then three minutes, and then finally two minutes.
Master's Tip 1: 4/3/2 is best in groups of at least four so you can speak to three different people. It's ok if you have less, though. You can even do it by yourself!

Master's Tip 2: IELTS Speaking Part 2 is a perfect match for 4/3/2. Coincidence? I think not!
Here are the 7 steps for the 4/3/2 spoken fluency technique:
Preparation: Choose an speaking topic (I recommend a speaking part 2 topic). Prepare your notes and any vocabulary words you might need for it. 
Four minutes: Set a timer for four minutes.

Start the timer and talk without stopping until the timer beeps. If you get stuck, keep going.

Rest: After your timer finishes, take a short rest (30 seconds).
Three minutes: Talk about the same topic for 3 minutes and then take another short rest (30 seconds).
Rest: Take your second short rest.
Two minutes: Talk about the same topic for only 2 minutes.
Victory! You have become more fluent.
Final Advice:
Use the 4/3/2 fluency technique to improve not only your IELTS speaking part 2 fluency, but also your vocabulary and grammar usage.
And like all practice, do it consistently. For this technique, I recommend 2 or 3 times a week.