In order to finish your task 1 letter for general writing on time and to get a high score, it's very important that you use a few minutes in the beginning to develop a clear plan.
To help you create a Band 7+ plan for your letter, you should ask yourself these four questions before you start.
Question 1: What is the correct tone for this letter?
General Writing Task 1 letters can be divided into two types: formal and informal. The tone that you choose will depend on the task that you are given. It's very important for your score that you get the tone correct.
To help, here is some practice: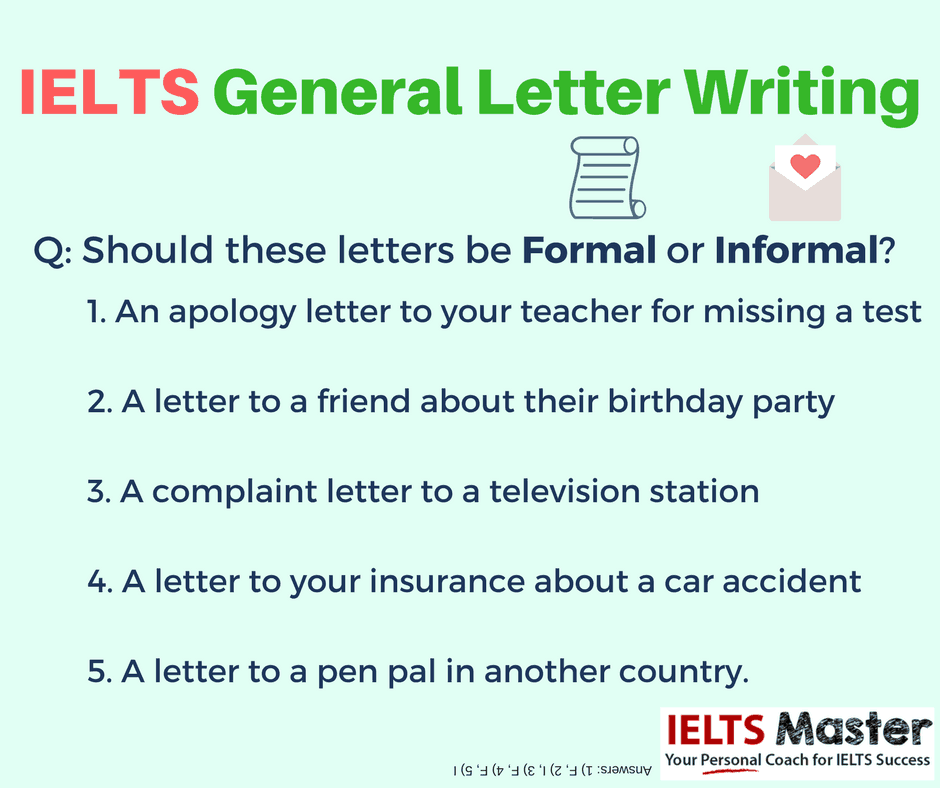 Question 2: What kind of greeting should I use?
After you decide if the letter is formal or informal, you need to decide what kind of greeting you are going to use.
You need to memorize these.

Question 3: What is the main purpose of this letter?
Your letter should be structured like this:
Beginning (Dear…)
Purpose
Body Paragraph 1
Body Paragraph 2
Body Paragraph 3
Closing (Thank you for your help/ I look forward to hearing from you/etc…)
Ending (Yours….)
The second part of your letter, the purpose, is key for getting a high score. Here you explain the reason you are writing the letter. In other words, you answer the question "Why?".
Take a look at the following examples. You should be able to guess the topic based on just these sentences.
Dear Sir or Madam,

I am writing with regard to several problems I have been having recently in the university accommodation that I am currently staying in.

Dear John,

I hope all is well! I'm just writing to apologize for not making it to your birthday party last weekend.
What do you think? After reading these sentences, was the the topic of the letter clear? I think so.
Question 4: What will each body paragraph contain?
Each body paragraph in your letter should have a set purpose. Use the question to find this purpose. Let's take a look at this example question:


Your letter should follow a similar structure to the question:
Beginning (Dear…)
Purpose
Body Paragraph 1:

Describe

the situation
Body Paragraph 2:

Explain

your problems and why it is difficult to work
Body Paragraph 3:

Say

what kind of accommodation you would prefer
Closing (Thank you for your help/ I look forward to hearing from you/etc…)
Ending (Yours….)
Looking at the task again, you can see that each of the body paragraphs corresponds with a bullet point.
Also, note that each of these paragraphs should be about the same length.
What's next after the four questions?
The next step is to come up with ideas for each body paragraph. In the accommodation task, for example, you need to imagine a situation, the problems that you're having, and your preferred alternative accommodation. When you finish this, you'll have a perfect plan.
Now you're ready to start writing with confidence!