Imagine knowing that your next IELTS will be your final one
– you'll never have to spend time or money on IELTS again.
Follow our step-by-step method for Band 7+ writing, and be finished with the IELTS. Created by IELTS and English language learning experts, you'll learn exactly how to get the score you need — in only 2 hours a week.
"IELTS writing is the most difficult section!"
Have you ever heard people say that IELTS writing is the most difficult section of the test?
I can understand why people say this. Writing is complex and needs to be accurate. There are no multiple choice questions like reading or listening, and you can't pretend you're confident like in speaking.
With writing, you're either right or wrong.
But with IELTS writing, it's not just this.
There are also the examiners. And even though they try to score everyone the same, they aren't robots so there is naturally going to be some difference in your score.
Have you ever thought…"What if my examiner is in a bad mood? What if he doesn't like people from my country?"
What if I don't get the writing score I need?
If you're starting to feel stressed, you're not alone.
I've had many, many students who had these same fears and worries.
These students included medical doctors who needed to get a 7.5 to transfer their medical licenses in an English speaking country, university graduates who needed a 7.0 to enter postgraduate programs and earn their master's degrees or PhDs, and parents with families who needed 6.5 for immigration.
These people were my students, intelligent but busy people who trusted me with their lives to guide them to the IELTS writing score they needed.
That's why I decided to become an IELTS writing master, and figure out how to teach IELTS writing in the fastest, most effective way possible.
Discovering a Method
I'm happy to tell you today that after 1000s of hours of reading IELTS books, teaching IELTS classes, testing ideas with students, and correcting IELTS writing, I've developed an IELTS writing method that has helped these people accomplish their goals and move on to the next part of their lives.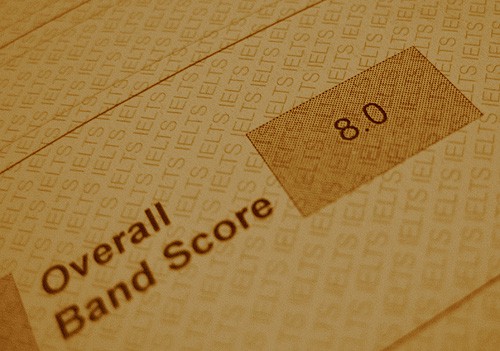 Like the many other people I've worked with, I want the next time you take the IELTS test to be the last time. I want you to get the score that you need and never spend time or money on the IELTS again.
My goal is to help you so much that you don't need me anymore, because you're finished with IELTS, and are ready for whatever life brings next.
And now, I'm ready to reveal my IELTS writing method to you.
Introducing
The IELTS Band 7+ Writing Method
A step-by-step online writing course specifically created for getting a 7.0 or better.
Each lesson is broken up into tons of detail where I explain exactly what you need to do to improve your score. And there are tons of techniques, strategies, and tips that you will never see in textbooks.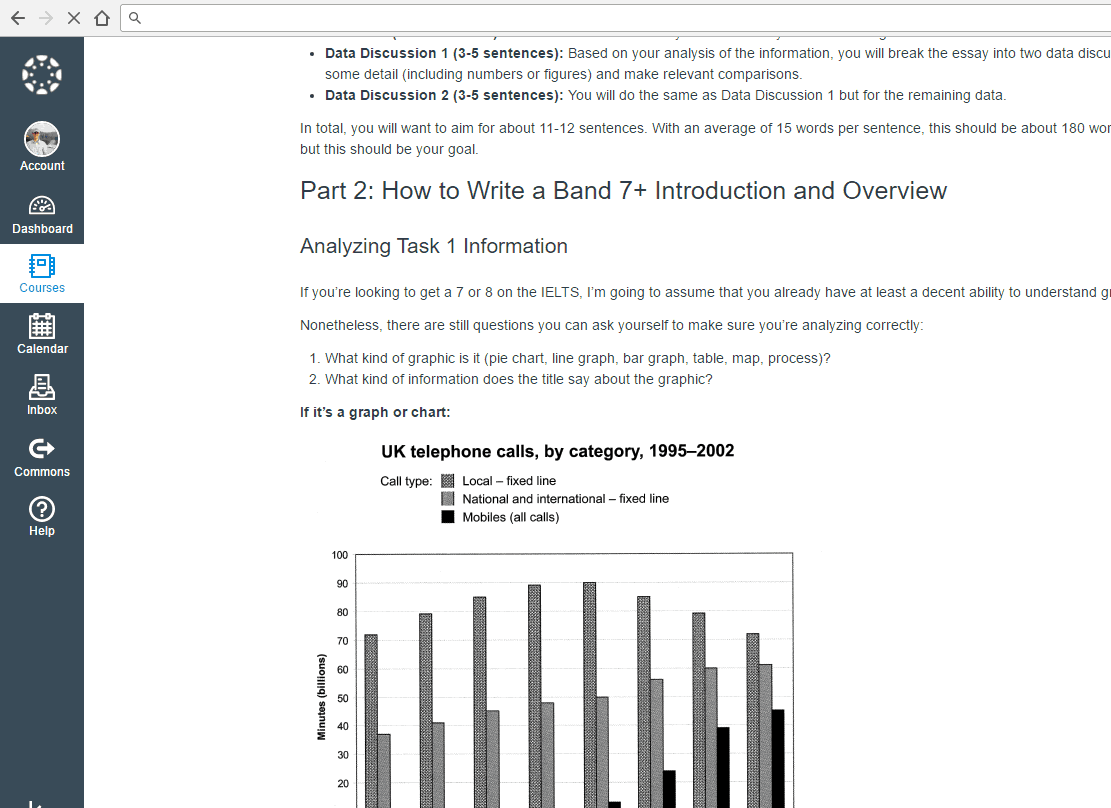 This course includes:
Eight step-by-step Band 7+ IELTS writing lessons
15+ video lessons on writing structures, grammatical techniques, and more
Email access to an IELTS expert for any questions
Sample answers with detailed analysis explaining each of the 4 official IELTS grading categories (TA, CC, LR, G)
In addition, the Gold and Master packages also include:
Writing corrections by IELTS experts
Accurate band score estimates for the real IELTS scoring categories
Personal advice on how to improve your ideas, vocabulary, grammar, and essay flow
Highlighted vocabulary correction with suggested alternative words
Highlighted grammar correction with explanations
 Two 30-minute 1-on-1 Skype Sessions with an IELTS expert that you can use for anything including IELTS speaking (Master Package only)
Unlimited writing corrections for the entire course and two weeks after it finished (Master Package only)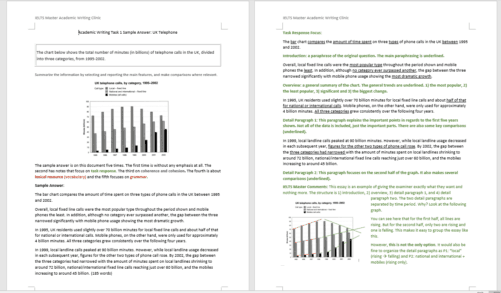 Here are some examples of what you'll learn:
How the IELTS is scored so that you can give examiners exactly what they're looking for (Lesson 1)
The essential elements of a 7+ Task 1 Task Achievement score (Lesson 1)
A structure you can use for every Task 1 report that you write from now on (Lesson 1)
How to write a perfect introduction and overview for Task 1 that ensures a good Task Achievement score (Lesson 1)
A process for analyzing graphs, charts, and diagrams (Lesson 1)
What coherence and cohesion mean and how they affect your score (Lessons 2 & 5)
The most common mistakes that IELTS test takers make with coherence and cohesion (Lessons 2 & 5)
How to logically structure Task 1 detail paragraphs for better coherence scores (Lesson 2)
How to use advanced cohesive devices for linking together paragraphs and sentences in a natural yet simple way
(Lesson 2)
The most important Task 1 vocabulary to memorize (Lesson 3)
High level Task 1 vocabulary that can impress examiners (Lesson 3)
How to vary your vocabulary to improve your lexical resource score (Lessons 3 & 6)
Which grammatical forms are most effective for getting a high score (Lesson 4)
How to find ideas for Task 2 writing (Lesson 5)
How to structure any kind of Task 2 essay question (Lesson 5)
Which linking words are best for IELTS writing and which should be avoided (Lessons 6 & 2)
The best way to learn new vocabulary to use in Task 2 writing (Lesson 7)
Grammatical forms and complex sentence structures that impress examiners and when to use them (Lesson 8)
And much, much, more…
All of that, in just four weeks!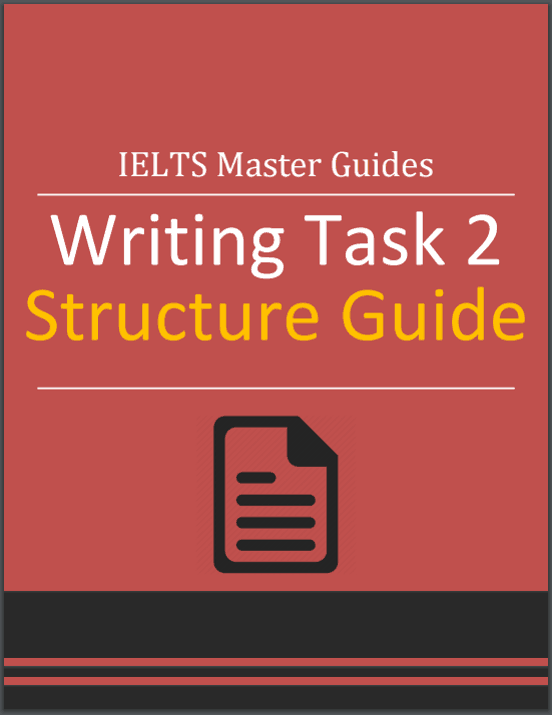 REAL EXAMPLES: People Who Have Followed the Band 7+ IELTS Writing Method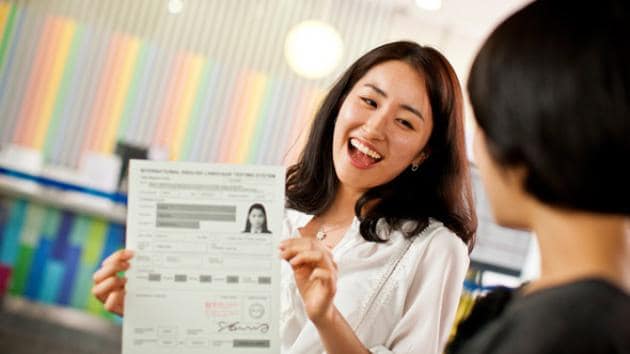 I found this your method to be amazing, challenging and efficient for those who really want to take IELTS exam.

It was really enjoyable and worthwhile for me to attend this course because of giving some feedback and advice together with the detailed explanations.

I feel more confident and believe that I've improved in my IELTS writing skill than before. The instructor made correction perfectly and highlighted my weak points and strengths with clear information.

– A female student from Singapore
I wouldn't have gotten a 7.5 on the IELTS without you. You made my dream come true.

– A female student from China
The instructor's feedback helped me to know exactly which parts I need to work in my writing.

– A male student from India
The course was challenging but now I feel like I'm ready for the IELTS.

– A male student from Indonesia
100% Satisfaction Guarantee 🙂
If you join this course, do the work, and aren't happy with your improvement, tell me within 30 days and I will refund 100% of your money back.
Since this is a four-week course, this means you can do the entire course from start to finish. At the end, if you feel like your writing hasn't improved, you pay $0.
This is kind of crazy. I don't know any IELTS schools that will give you your money back if you don't improve. Or any books that you can return if they are not as good as you expected.
This course is special, and I'm very confident in it.
I've spent 1000s of hours teaching IELTS, developing learning techniques, and helping students get the scores they need to improve their life.
If I can help you overcome your biggest challenge and get started with life in a new country or at a new job….I will have done my job well.
So again, if you do the work and feel like you haven't improved your IELTS writing skills with this course, I can't keep your money. Cancel within 30 days, show me the work you have done, and I will return 100% your money.
Join the course, do the work, and you'll understand why I'm so confident.
Join the IELTS Master Band 7+ Writing Method Now
If you're ready to finally be done worrying about IELTS writing, it's a good time to join.
I don't want just anyone to join, however. We need to be clear.
IELTS Band 7+ Writing Method is NOT for you if…
You don't know the basics of IELTS writing. If you don't know what Task 1 and Task 2 are, this isn't for you.
You are a General IELTS Writing candidate. At the moment IELTS Band 7+Writing Method is only available for Academic IELTS candidates (this may change in the future).
You are not aiming for at least a score of 6.5 on writing. This is an intermediate/advanced-level class.
You are too busy to spend 2 hours a week studying for the IELTS. I'm serious about this course, and I expect you to be too.
IELTS Band 7+ Writing Method is right for you if…
You need a 6.5 or higher score on writing. This is an intermediate/advanced course for people who want to really improve their writing.
You have at least four weeks before your test. The course is four weeks long and some people take even longer. No rushing.
You're hardworking and determined. I only want to work with people who will take the time to review and do their best to improve their writing.
You understand that in order to truly improve your score, you need to make a dedicated effort.
Are you ready to join?
YES! I want to join the IELTS Band 7+ Writing Method Course
Option 1: Course Package
(4-week course for Task 1 and Task 2)
Only $1.60 per day
$45 total

---
Option 2: Gold Package
(4-week Course + 4 Corrections)
Only $4.96 per day
$139 total

---
Option 3: Master Package
(4-week Course + Unlimited Corrections for 6-weeks + two 30 minute Skype Calls)
Only $7.10 per day
$199 total
*Best Deal*

---
Frequently Asked Questions
Do you have a discount/coupon or will you in the future?
No, this is the cheapest this course will ever be for these packages.
Is the IELTS Band 7+ Writing Method for both Academic and General Training IELTS? 
No. At the moment we only offer this course for the Academic IELTS.
Does the course cover both Task 1 and Task 2?
Yes, we cover both tasks.
Can't I just ask my native speaker friend to correct my essays?
You can, but you need to know that IELTS writing is special. Even professional English teachers who are not familiar with the IELTS may give you incorrect advice.
Further Questions
If you have any questions, problems, etc. just send me an email at lee@ielts-master.com